The Group is committed to building a sustainable supply chain. In addition to requiring suppliers to comply with relevant laws and regulations, we also require suppliers to comply with the Group's Code of Conduct for Corporate Social Responsibilities ("CSR"), and convey our sustainable development concept to upstream suppliers. The Group adheres to fair and just principle with no bias when the Group selects the suppliers. The Group has established a strict introduction flow and formulated systems such as the Procedures for Management and Control of Suppliers (《供应商管理控制程序》), the Code of Managing Suppliers (《供应商管理规范》) and the Control Procedures on Development and Appraisal of Suppliers (《供应商开发和评价控制程序》) etc., based on the QC080000 system standard and customers' requirements to manage the supply chain. Among them, the Procedures for Management and Control of Suppliers mainly includes specifications and regulations on the classification of suppliers, evaluation, audit and introduction of the qualified suppliers, information of suppliers and data management, etc.; and the Code of Managing Suppliers mainly includes specifications and regulations on the processes of exception management for suppliers, processes of quarterly/ annual performance management for suppliers, controlling processes of production changes of suppliers, managing processes of the annual audit, tier-two suppliers management, risk management for material supply interruption and suppliers information management.
All subsidiaries have established their organizational structures responsible for resources development, appraisal on suppliers' performance, assessment on the sustainable development capability of suppliers and qualification approval on suppliers and specified their functions. All subsidiaries classified suppliers into different levels based on the importance of materials or the extent of risks. They have prepared comprehensive management systems on suppliers based on different levels, such as procedures on the control of development and appraisal of suppliers and procedures on routine management and control of suppliers.
The procedures for the management of suppliers of the Group are as follows: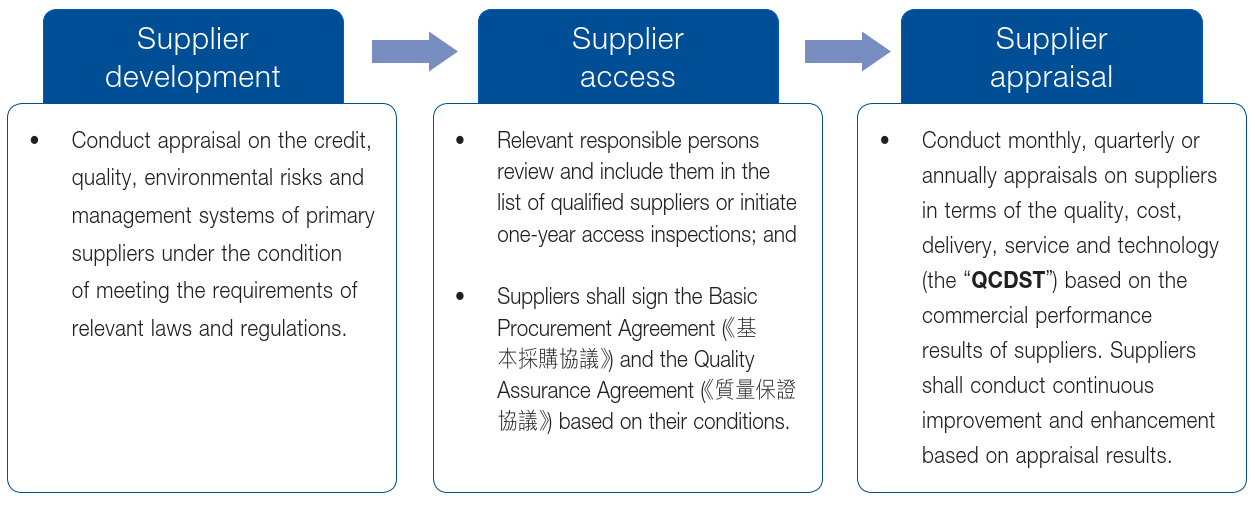 Meanwhile, the Group has established a supplier removal mechanism. Suppliers will be removed if they have serious problems on product quality, or the materials used fail to meet the latest environmental and green requirements with no effective improvement measures.